Selected Programs and Workshops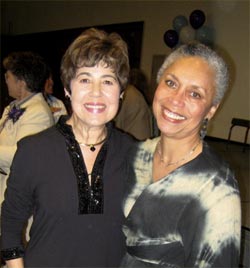 Sandi Hannibal
(Right)
Sandi captivates her audiences as she brings history to life. Drawing from her Southern background and its rich traditions, she transports the listener to another time and place. Her stories recount the strength and courage of African-American people who with perseverance strove to fulfill their dream of freedom. Her multicultural stories reflect the universality of the human experience. Both children and adults are mesmerized by her characters
"Sandi's spirited storytelling is exciting and educational. You can't help being swept up in the tale and learning something along the way"...Jenzi Tilton, Educator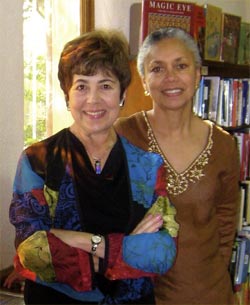 Bonnie Greenberg
(Left)
Bonnie's vibrant, engaging stories are rooted in her love of people, her Appalachian childhood, and her experiences in Israel. Designed for all ages, her broad repertoire opens the hearts of listeners and connects them with tradition, memories, and images of life's possibilities. Multicultural themes are often accompanied by guitar and audience participation. Her stories are about ordinary people whose extraordinary lives will inspire you to find the special meaning in your life.
"Bonnie Greenberg is a storyteller of uncommon depth. She tells with great power, integrity, and courage." Jay O'Callahan, Master Teller.

Selected Programs and Workshops
The FreedomQuilt • Zusha, the Youngest Partisan

These stories reflect the struggles of young people trying to escape persecution during slavery and the Holocaust. To hear each of the stories alone is educational and inspirational. To hear them side by side in the same program is powerful. They are momentous celebrations of the human spirit.
Br'er Rabbit and the Wind • The Little Heroes of K'far Tabor
These tales demonstrate that working together to overcome oppression makes all things possible. In these folktales from the American South and from Israel, we see the characters place their hopes in the strength of community. Appropriate for family audiences.


"Common Threads"
The universality of the human experience is well expressed through story and song. Bonnie and Sandi's "Survival Tales of the African-American and Jewish People" illustrates this truth. Learn how to find the common threads of stories from different cultures. Ideas for sharing these stories with your students will be explored as well as extension activities for enhancing the experience. This participatory workshop will leave you with ideas and stories you can use tomorrow with your students.