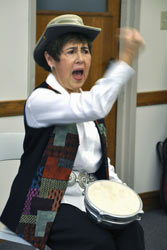 Storyteller

QUOTES & RECOMMENDATIONS

Bonnie Greenberg is a storyteller of uncommon depth.
She tells with great power, integrity, and courage.
Jay O'Callahan, Master Teller

On Performances:
Bonnie is VERY creative and has a lot of enthusiasm and energy. She kept the children and their imaginations involved! Parent at Temple Emunah, Lexington
The children's imaginations were clearly piqued as evidenced by their discussions and their illustrations of the stories you shared. Lynn Somin, teacher Hunnewell School in Wellesley
Excellent! Bonnie encourages active listening and makes the curriculum come alive! teacher, Wellesley Public Schools
"Arigato" for the assembly and the Japanese stories and songs! student at Fiske Elementary School
Thank you for a wonderful performance. The children were clearly absorbed and more attentive than I've seen them. Ruth Crowley, director Speech, Reading, and Hearing at Fransican Children's Hospital
Your performance was part poetry, part theatre, part dance and was given with lots of soul. I'm glad my children got to experience the simplest, most direct, and yet most compelling form of human communication! Memorable! Thank you! parent, Family program
Your program was wonderful – my children were enthralled. There was a nice balance of listening and movement.
Your presentation of the poignant story about the Candlesticks evoked strong emotions in the audience. It also enriched the cultural awareness of our people. Frieda Kadish, President of Golda Meir House (senior citizens housing)
Bonnie creates a moment in time that is disorienting – a web of magical incantation – Dr. D. Shay, Geriatric psychiatrist
Your story was the highlight of the afternoon's program at the Cambridge Multicultural Arts Center. Herman Brown, director of Workmen's Circle
The program meant a lot to our senior citizens and we couldn't have done it without your warmth, talent, and generosity. I have never seen the audience express as much ruach (spirit) and appreciation as they did with you! Elana Paru, social worker for Jewish Community Housing for the E1derly
People are still telling us how much they enjoyed your performance. The children were mesmerized and the stories you told were a perfect match with our current exhibit. Marilyn G. Earley, Danforth Museum of Art
Thanks again for a wonderful performance on Sunday – from the biggest to smallest, we all thoroughly enjoyed ourselves. You have a true gift – the ability to transport people and leave them at a higher level than where they started. Amy Peck
Thank you for helping us create a Hanukkah spirit enjoyed by all those in attendance. Your stories were good. Your telling them was magnificent! Rabbi Maurice Weisenberg
It was a memorable experience to watch you engage both children and adults..you are a wonderful talent! classroom teacher, Wellesley Public Schools
I have nothing but genuinely rave reviews given with enthusiasm, completely unsolicited and with expressions of warmth and appreciations in people's eyes – it was a gift. Amy Sands, Family Educator

On Workshops:
After I was done telling my story, I felt very good and proud. And now, I want to do another story. student, Wellesley Public Schools
When everyone clapped for me, I was proud for the first time. student storyteller
I really love it when you tell stories because it lets my imagination come to life. I love the songs you taught us, too. student at Milton Academy, Milton
Everyone involved, affirmed – perfect workshop. Bonnie is as warm and charming as she is well-organized and energetic. Sharing the Fire, LANES (League for the Advancement of New England Storytelling)
Packed with good sound information. Well researched, organized and excellent! Sharing the Fire Conference, LANES
Wonderful, wonderful, wonderful. Thank you...I am going to use storytelling in my classroom.
Absolutely fantastic and fun, too. I can hardly wait to try some of these activities to get my library students working together effectively. Librarian at Sharing the Fire Conference
Bonnie Greenberg is outstanding – I am inspired to learn more about storytelling. I especially admired her poise, articulateness, creativity and contextual explanations. What magic to be entertaining and educational! The art of storytelling and the ways in which to int=egrate it into the curriculum are definitely new personal and professional goals for me. student at Lesley College
Bonnie did a wonderful job creating a cooperative learning environment and demonstrated how much fun it is. participant, teacher workshop
Feedback...has been overwhelmingly positive. Your high quality of teaching and the material you presented were greatly appreciated. Combined Jewish Philanthropies Day of Learning

On the CD: From the Hearts of the People Vol. 1.
Speaks to the universal feelings, needs, and understandings that we all share...this is a moving and compelling story, full of heartbreak, terror, desperation, and hope....Greenberg tells with sincerity and clarity, often accompanying herself on the guitar as she sings the song of the Partisans or Yiddish folksongs...love, humor, and courage speak so clearly in these tales. The Second Story Review, Canada
Greenberg speaks exceptionally well, creating a frightened boy and a grown man as well as candlesticks with Yiddish accents. Between episodes, she sings songs from Israel, Eastern Europe, and Appalachia...libraries searching for ethnic history sources will welcome these stories. Booklist, American Library Association
We truly enjoyed your tape. Our granddaughter, a CIT is bringing it to camp with her to play for her group! Lonnie Carton in the Learning Center
I was very moved by the power of your story and your telling. I felt very grateful for my children to have heard it. Theresa Whittiker, musician, storyteller
It is wonderful to find a storyteller who is brave, warmhearted, spirited, and willing to do the long hard work of developing and polishing a story...truly rare. Your story continues to glow in my memory. Barbara Reed, founder Connecticut Storytelling Center
Listeners will be enthralled with both stories on this cassette. Teachers can use the stories to make history come alive, or to encourage students to learn about their own families. School Library Journal